Description
According to Wikipedia American Pharoah (foaled February 2, 2012) is a Thoroughbred racehorse who won the American Triple Crown and the Breeders' Cup Classic in 2015. He was the 12th Triple Crown winner in history, and in winning all four races, became the first horse to win the Grand Slam of Thoroughbred racing.[a]. He now stands at stud at Ashford Stud in Kentucky. Dan was in the backside stable area to take this photo when American Pharoah arrived back at Churchill Downs the day after he won the Belmont Stakes and the Triple Crown title.
There are no screens used in Giclée printing, the canvas prints have a higher resolution than lithographs and they have a very dynamic color range as well. Giclée print making provides a constant  brilliance that represents original photos in a truly amazing way that helps bring this unique photography to life. There is also no need at all to frame this fine artwork, it comes to you ready for hanging on your  wall, so you can immediately dazzle and impress your guests, friends, and family.
In the event that your selection is not in stock, please allow two weeks for receipt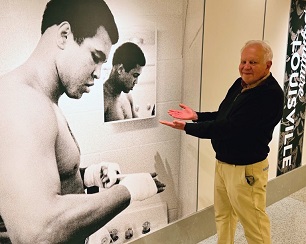 Dan Dry is a Louisville resident and has won over 500 national and international photography and design awards during his career.
Starting his career as a member of the Courier-Journal's Pulitzer Prize winning photography staff from 1976-1982 and traveled the world with National Geographic Society for 10 years. He is the sole photographer for 25 coffee table books, including 6 cookbooks.  He is also the Director of the Kentucky Derby photo team, a position he has held for over 30 years. He has photographed the Kentucky 43 times.
Dan has lectured and mentored students as dozens of colleges and universities as well as professional organizations around the country.  He is currently the Managing Director of Price Weber's Creative Content Studio which is, fortunately, less than a mile from our offices in Louisville.
I know you will enjoy Dan's work whether for home, office, boardroom or lobby.  Volume orders available, call for quote 800-444-0552