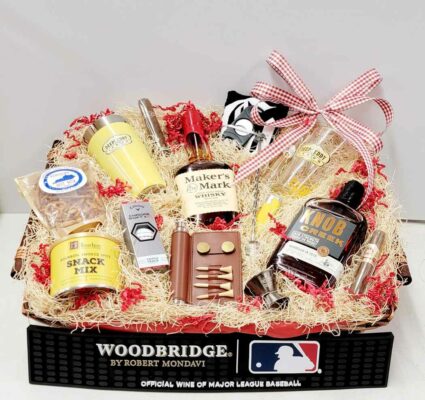 Businesses are no different — whether it is congratulations for a job well done, or as a simple thank you for a client's patronage, it is good business to treat your clients well. And our reputation is well-known here in Kentucky. We have served everyone from Fortune 500 companies to other locally owned businesses with great success.
We offer the highest-quality products for your gift.
We work with you to determine what the best options are within your budget and timeline.
We can include corporate-branded materials or personalized items if you desire.
We can either deliver locally or package, ship, and track your order via UPS to guarantee receipt of your gift.
For one client a few Christmases ago we assembled, packaged, and shipped over 800 customized gifts (similar to the Derby Pie Kentucky Style). All the gifts sent had seasonal bows and ribbons and customized gift tags.
Here is another, even larger example: 4500+ custom gift towers with color-coded gift tags shipped to almost 500 separate locations (different quantities to each, of course) — and they all left on the same day.
Small is good, too. Another client uses us to send gifts to their own employees on their birthday. We have a customized order form for our client to use and they simply fill it out and fax it to us. We do the rest, one or two pieces at a time.
Those are just a few examples — we have many more, and we can do the same for you. For more information, please call or email:
(800) 444-0552 | (502) 244-3355
info@atasteofky.com
Or submit the form below.