Description
From a seating section at Churchill Downs known as "Millionaires Row" Dan snapped this graphic image as a pack of horses pace around the first turn on a race during Derby Week in 2011.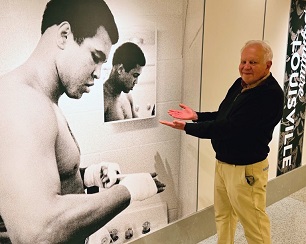 Dan Dry is a Louisville resident and has won over 500 national and international photography and design awards during his career.
Starting his career as a member of the Courier-Journal's Pulitzer Prize winning photography staff from 1976-1982 and traveled the world with National Geographic Society for 10 years. He is the sole photographer for 25 coffee table books, including 6 cookbooks.  He is also the Director of the Kentucky Derby photo team, a position he has held for over 30 years. He has photographed the Kentucky 43 times.
Dan has lectured and mentored students as dozens of colleges and universities as well as professional organizations around the country.  He is currently the Managing Director of Price Weber's Creative Content Studio which is, fortunately, less than a mile from our offices in Louisville.
I know you will enjoy Dan's work whether for home, office, boardroom or lobby.  Volume orders available, call for quote 800-444-0552