Description
On December 10, 1976, Dan was a 19 year old Intern at the Courier-Journal newspaper in Louisville. It was at Trinity H.S. where he shot this iconic photo of Muhammad Ali. Here are some excerpts from a salon.com story written about the famous photo shortly after Ali's passing in 2016. How did you get the shot? I was a "pregnancy replacement intern" for the Courier-Journal. It was December 10, 1976, and I got to go to an exhibition match featuring Ali. I want to say he was in his late 30s at the time. It was going to be taking place at Trinity High School, in the gym there. He was boxing against sort of an unknown at the time, Greg Page — he actually went on to become a world heavyweight champ, but at the time no one really knew him. Louisville kind of claims him now like they do Ali. Anyway, I went in before the match and sort of instinctively went to the locker room. There he was, surrounded by family and friends and other folks. Then he got up to go to what I assumed was the bathroom. I gave him a few minutes, but not too long. I knocked on the door and said, "Champ, can I come in?" I was intimidated as heck, but here you have the greatest in the world by himself — no trainers, no handlers or anything. He was wrapping his hands with that tape you use before you fight. This was back in the days of film and I was shooting in black and white. I shot about four frames, and then I left to photograph the match. 
There are no screens used in Giclée printing, the canvas prints have a higher resolution than lithographs and they have a very dynamic color range as well. Giclée print making provides a constant  brilliance that represents original photos in a truly amazing way that helps bring this unique photography to life. There is also no need at all to frame this fine artwork, it comes to you ready for hanging on your  wall, so you can immediately dazzle and impress your guests, friends, and family.
In the event that your selection is not in stock, please allow two weeks for receipt. Additional sizes available, call for quote. 800-444-0552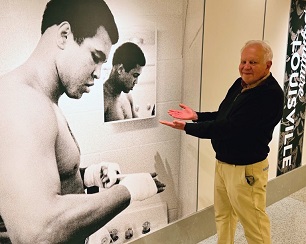 Dan Dry is a Louisville resident and has won over 500 national and international photography and design awards during his career.
Starting his career as a member of the Courier-Journal's Pulitzer Prize winning photography staff from 1976-1982 and traveled the world with National Geographic Society for 10 years. He is the sole photographer for 25 coffee table books, including 6 cookbooks.  He is also the Director of the Kentucky Derby photo team, a position he has held for over 30 years. He has photographed the Kentucky 43 times.
Dan has lectured and mentored students as dozens of colleges and universities as well as professional organizations around the country.  He is currently the Managing Director of Price Weber's Creative Content Studio which is, fortunately, less than a mile from our offices in Louisville.
I know you will enjoy Dan's work whether for home, office, boardroom or lobby.  Volume orders available, call for quote 800-444-0552