Description
Wigglewow® 2pc Dog Treats are handmade in Louisville, Kentucky with all natural ingredients your dog is sure to drool over! Made by Wigglewow's Epic Chefs, adults with special needs who thrive at Wigglewow, and love making treats for our furry companions. Wigglewow® 2pc Dog Treats are FDA and Pet Approved! There are no harmful preservatives or artificial flavoring, in any one of these tasty treats which is Oat-Bacon flavored.
Ingredients:
Oats
Bacon
Eggs
Salt
Mixed Tocopherols (Vitamin E) for Freshness
Rosemary
Natural Flavor
Icing Ingredients:
Non-Fat Milk Solids
Yogurt
Tapioca Starch
Tapioca Maltodextrin
Egg Whites
Dextrose
Modified Plant Starch
Apple Pectin
Titanium Dioxide
Did you know 85% of Special Needs individuals desiring to work can't find a job? Even 3/4th Wigglewow's Epic Chefs couldn't find a job before Wigglewow. Since working at Wigglewow, they have all flourished in the Dog House.
A perfect example is Danielle with her baby Bella.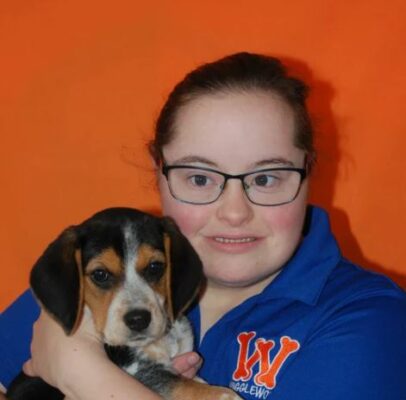 Wigglewow now has over a dozen individuals with Special Needs on our waiting list to become an EPIC CHEF. Our EPIC CHEFs help create every bag of treats you receive. Upon delivery of your treats, the bag will tell you a little more about each particular EPIC CHEF that created those treats including things like their picture, interests, and hobbies.